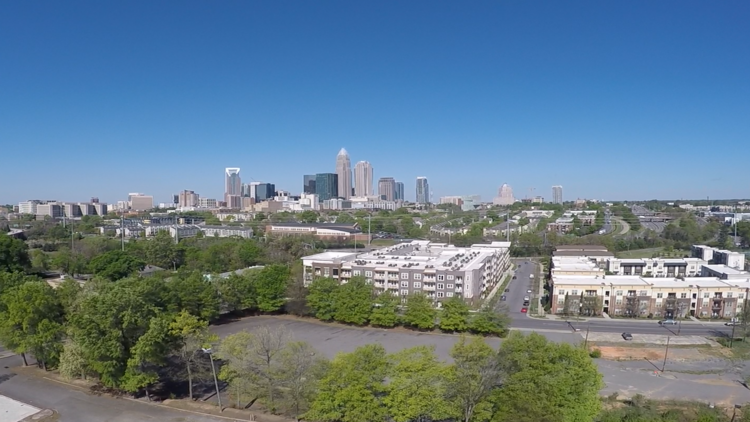 The original story was featured in the Charlotte Business Journal on April 20, 2017 by Ashley Fahey.
It seems these days that homebuilders are putting up townhouses around Charlotte almost as fast as multifamily developers are putting up apartments.
Townhouses typically attract buyers in the two largest population sectors — first-time homebuyers and boomers looking to downsize. Townhouse projects have been developed in all parts of Charlotte, including infill sites, urban-suburban mixed-use projects and traditional single-family neighborhoods.
PulteGroup Inc. (NYSE:PHM) has been one of the more active homebuilders in the Queen City in the townhouse development space. Its recently developed communities include Park South Station in south Charlotte, Midwood Square in Plaza Midwood and Central Park near Ballantyne.
There are several more in the works. Pulte is building 58 townhouses at Pappas Properties' South Village project near the Lynx Blue Line Scaleybark Station. Just this week, Pulte went before Charlotte City Council at its April zoning meeting for a public hearing on a proposed 95-unit townhouse community on Starmount Cove Lane, near South Boulevard. Members of City Council expressed multiple concerns with the project's design, parking, site accessibility and density.
Jon Cherry, local division president for Pulte, said the homebuilder is interested in developing sites in central Charlotte. He declined to name specific other projects in the works but noted that Pulte is interested in the north side of Charlotte near the light-rail extension.
The next one on deck for the homebuilder will be in the Belmont neighborhood, at the intersection of East 10th Street and Seigle Avenue, just outside of uptown. Nearly 6.6 acres at that corner, which sits next to Piedmont Open IB Middle School, have been actively marketed for almost a year. Pulte has plans to begin redeveloping that site, which is mostly surface lots, with 126 townhouses by the end of the year.
"We have a community about three blocks away," Cherry said, referring to Midwood Square on Lamar Avenue in Plaza Midwood. "That was highly successful for us. We certainly love all the amenities that area offers."
Pulte has chosen an active intersection. Diagonal to the proposed Belmont community, to be called Central Point, a self-storage project with ground-floor retail called Belmont Mills is under construction. The site of Seigle Avenue Presbyterian Church, at the southeast corner of the intersection, was sold for $3 million late last year to a development-management company, which plans to eventually redevelop the site with commercial uses. And a 190-unit mixed-income community, The Vistas @ 707, opened in 2015 at the northwest corner.
Belmont as a whole has seen some traction lately. Catawba Brewing Co. is wrapping up its 10,000-square-foot upfit at 933 Louise Ave. Laurel Street Residential is developing a residential community at 1322 Allen St., which will include 60 units of senior housing, 29 townhouse-style units and 23 garden-style apartments. And that neighborhood has become a hot spot for local home-flippers.
Pulte's Central Point project will include a mix of three- and four-story units starting at 1,800 square feet. Cherry declined to estimate the price points of the units.
Groundbreaking is expected by the fourth quarter of 2017, with the first residents moving in by the end of 2018.
"We've been focused on the bookends of buyers — obviously, we do really well with what we refer to as 'move down in place,' where (buyers) can find a location that suits their needs in their (neighborhood), and the entry-level buyer," Cherry said. "Not to mention, we still have our core family business in the middle. I think it's been a good spring."